Dhanraj Bhagwandin
Biography
Dhanraj Bhagwandin, a professional journalist, was born in Annandale, on Guyana's East Coast of Demerara in South America. He holds a Bachelor of Arts Degree from the University of Guyana and a Masters from the College of New Rochelle in the United States. Bhagwandin taught at the secondary school level in Guyana and at York College (City University of New York). He is the Author of "Georgetown Spies," A True Life Account Of Espionage In A South American Republic and "From Cubana to Santrina," The Secret Life Of Bambi - Caribbean and Latin American Most Notorious Terrorist.
After freelancing with the Guyana Chronicle in 1981, Bhagwandin joined the Guyana News Agency (now defunct). In 1984, he traveled to Italy and Germany on a training program, sponsored by the Rome-based Inter Press Service (IPS). In the capitals of Rome, Frankfurt, Berlin, Bonn and Cologne he covered a number of major international events. Upon his return, he became a senior journalist with the daily Guyana Chronicle, covering the Guyana Parliament, the President and the Diplomatic beat in the Caribbean. His assignments took him to a number of Caribbean countries including Cuba where he participated in a symposium for Caribbean Journalists at the Jose Marti Institute for International Journalism. In 1989, he joined the Communications Unit of the Caribbean Community Secretariat (the Georgetown headquarters of the Caribbean regional integration grouping ) from where he worked with the local and foreign media. In March 1992, he successfully completed a training program for News Gatherers and Feature Writers, sponsored by the Caribbean Publishing and Broadcasting Association in conjunction with Press International of London. For many years Bhagwandin served on the executive body of the Guyana Press Association.
In New York he was Editor and Publisher of Inside News (Caribbean Edition ), a forth nightly newspaper and also wrote for the Brooklyn Skyline, a community based newspaper. He also serves as a Press and Public Relations Consultant. Currently he edits "Caribbean Press International , a New York based online news service.
Books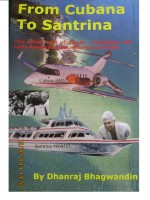 From Cubana to Santrina
by

Dhanraj Bhagwandin
The Secret Trail Of Bambi-Caribbean and Latin American Most Notorious Terrorist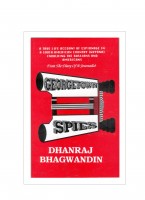 Dhanraj Bhagwandin's tag cloud