Peter S. Beck
Biography
Peter Beck spent 23 years as an infantry officer in the US Marine Corps. Escaping from Hitler's Germany in 1939, he found his way to America through Ecuador, landing in New York City in 1940. Growing up fast, he became an Eagle Scout, New York City Lifeguard, street gang member, garment district runner and college graduate. His 23 years in the Marine Corps took him all over the world and into 13 months of jungle combat in Vietnam. Retiring from the Marine Corps in 1978, he earned an MBA from Pepperdine University and began a 30 year career as a business executive and entrepreneur in Northern California. This book chronicles his adventurous life through his retirement from the Marines.
Where to buy in print
Books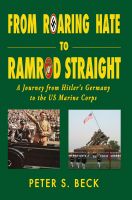 From Roaring Hate to Ramrod Straight A Journey from Hitler's Germany to the US Marine Corps
by

Peter S. Beck
This story tracks the life of an immigrant German Jew who was able to escape the clutches of Nazi Germany, fleeing Berlin, with his family in 1939, shortly after the horrific events of "Kristallnacht" when the Nazi Party in Germany finally showed its' true colors. Left without a country and nowhere to go, the family manages to get to Genoa where transportation to Ecuador is arranged.
Peter S. Beck's tag cloud