Roy Barree
Biography
I was raised by my grandparents from the time I was an infant. My grandparents had very little income and was considered to be poverty stricken. At the age of 6, my grandparents could not afford to send me to school, so I was moved into my fathers and stepmothers home. At the of 7, I was moved into my mothers and stepfathers home. Passed around several times, I became an unstable adolescent. At the age 17, I was living on the streets of a large city. At 18 years old, I was married with a small child. At 19, I was drafted into the Army. At 21, I reenlisted and became an Airborne Ranger. After 6 years in the Army, I went back into civilian life and had several years of hard transition challenges. Divorced and living on the move, I was blessed with an oil industry job contracting around the world. After several years, I remarried and in 2004, I became a contractor working for the military under third-party contracts in combat zones. From 2004 to 2008, I contracted as an Engineering Technician / senior CAD Designer in Afghanistan over seeing and directing an eight-man design team. I was also the Geographical Mapping Technician for the Kandahar and FOB Salerno military bases. In 2011, I contracted to Iraq as a Senior Designer and Geographical Mapping Technician for the Al Asad base. At the end of 2011, I wanted something exciting to do, so I came home and became a substitute teacher.
Where to find Roy Barree online
Books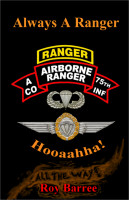 Always A Ranger
by

Roy Barree
Price:
$5.99 USD.
Words: 34,540.
Language: English.
Published: April 5, 2017
. Categories:
Fiction
»
Adventure
»
Action
(5.00 from 1 review)
Travel with the character from being a homeless adolescent on the big city streets to becoming an Airborne Ranger facing extreme challenges in life.
Roy Barree's tag cloud