Raymond Burt
Biography
An author of science fiction, Raymond J Burt lives in Melbourne, Australia.
Where to buy in print
Books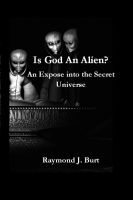 Is God An Alien? An Expose Into The Secret Universe
An adventurous ride through the universe and time, as our character gets abducted by aliens whose strange actions and sense of humour leads to wierd revelations about them and us.
Raymond Burt's tag cloud