Raymond Towers
Biography
Greetings, reader. My pen name is Raymond Towers. Primarily, I write darker fiction in the fantasy, horror and science fiction genres, but I do dabble about in other genres as well depending on my whims. I like to think that I have a unique perspective on the world and life in general, and I tend to shake things up to break people out of their doldrums. If you want to read something 'safe,' then I'm probably not the author for you. My favorite authors are in a wide range, from Asimov, Clarke and Farmer, to King, Lovecraft and Poe, to Burroughs, Tolkien and Twain. All the big names, as that is the level I aspire to reach. I especially enjoy combining aspects you won't normally see together in fiction, and on taking the next step and reaching for the farthest, blackest edge of the abyss. The place where most other authors leave off, that is the place where I get started. The question is; are you ready for that?
Where to find Raymond Towers online
Books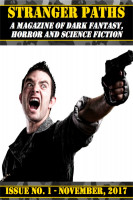 Stranger Paths Magazine 1
by

Raymond Towers
The first issue of Stranger Paths Magazine, for November, 2017, features fiction written by Raymond Towers. This issue focuses on science fiction, including 3 chapters from the military novella Roaches In The Attic 0 and 3 short stories from future release Variant Worlds 2. Also in this issue are 2 short stories and 1 poem for future fantasy release Savage Lands 1. Rating: HIGH controversy.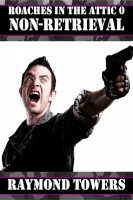 Roaches In The Attic 0 - Non-Retrieval (original version)
by

Raymond Towers
(4.75)
For rookie Spaceman Harold Douglas, the mission sounded simple enough. Take the squad of Space Marines out, discover why the outpost had gone offline, and bring them back home in one piece. That was before his transport suddenly vanished, stranding them on an alien planet. Now, they're fighting for their lives against the greatest threat humanity has ever seen. Rating: MEDIUM controversy.
Raymond Towers' tag cloud