Ray Van Horn, Jr
Biography
Ray Van Horn, Jr. is a seasoned entertainment journalist and concert photographer. He has conducted over 300 interviews with musicians, actors, directors, artists and authors. Ray has been published at Fangoria.com, Dee Snider's House of Hair Online, About.com, AMP, Metal Maniacs, The Big Takeover.com, Noisecreep, Hails & Horns, Pit, Unrestrained, Caustic Truths, Impose, DVD Review, Horror News.net, Music Dish and other venues. Ray was the host of AMP's heavy metal column from 2005-2008. Ray's website The Metal Minute was awarded Best Personal Blog of 2009 by industry giant, Metal Hammer magazine. Ray has freelanced for Metromix, an affiliate of The Baltimore Sun, Carroll Magazine, The Northern News, Patch.com and The Emmitsburg Dispatch. He is a former NHL analyst for The Hockey Nut and his fiction and poetry has appeared in numerous outlets including five original superhero character stories collected in the trade paperback Playing Solitaire. Ray won Quantum Muse's fiction contest in 1999. Ray has been featured guest many times at open mike events in his home state of Maryland. He also appears as a zombie in the independent horror film, Bane.
Where to find Ray Van Horn, Jr online
Books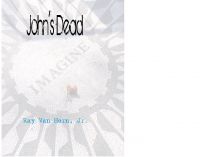 John's Dead
by

Ray Van Horn, Jr
"John's Dead" conveys a ten-year-old boy's coming-of-age moment in the midst of the John Lennon assassination.
Ray Van Horn, Jr's tag cloud