Richard Wright, Jr
Biography
R. Boardman Wright [Richard Blackburn (née Wright)] lives in Russellville, Arkansas with his husband David, and four cats: Shadowfax, Snowmane, Lightfoot, and Firefoot, all named after horses from The Lord of the Rings. Born near Amish country in Pennsylvania, Richard grew up in Reading, Pennsylvania with a love of literature and writing he carried with him as his family moved across many states. Finding himself in Arkansas, Richard continues to write, imagining worlds of wonder just beyond the next horizon.
Books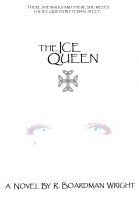 The Ice Queen
by

Richard Wright, Jr
Price: Free!
Words: 102,040.
Language: English.
Published: January 29, 2012
. Categories:
Fiction
»
Fantasy
»
Epic
(5.00 from 1 review)
Once there was a legend. Long ago, in a time the world of men no longer remembers, an evil was born in the lands of Sul. Shadows came into the world; ice and snow covered the earth in eternal, damnable winter. A prophecy was laid down: a messiah would be born to the Witch Queen of Sul, a child who could destroy the Dark Lord who arose in the West. A price would be paid, a life for a life.
Richard Wright, Jr's tag cloud