R C MacDonald
Biography
I love almost everything about Japan. I'm studying Japanese, love to write, drawing manga-style, a clarinetist, into photography, and more. I love to cook from various international cuisines, and have gotten a bit into desserts. I like to watch Jdrama. Into Jpop/Jrock/Kpop, etc., too. I love J-horror movies, anime, manga, Japanese culture, and so much more.
Where to find R C MacDonald online
Books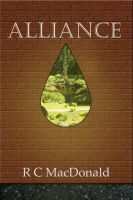 Alliance
By
R C MacDonald
Price:
$2.99 USD.
Words: 80,770. Language: American English. Published: April 26, 2013. Category: Fiction
Shadow Delaney lives in a world where demons are more privileged. There have been many wars fought between demons and humans. Humans are struggling to survive. Despite all this, Shadow is fascinated by demons, and wants to learn more about them. Unity University decides to accept both humans and demons for the first time. Shadow's the first human admitted. What awaits him at this university?
R C MacDonald's tag cloud