R. Daniel Lester
R. Daniel Lester writes into the void. Sometimes the void wins. Other times the words win.

His writing has appeared in multiple publications, including Adbusters, Geist, 365 Tomorrows, Pulp Literature, Switchblade and the clown noir anthology, Greasepaint & 45s. He's won the Mash Stories flash fiction contest and twice made it to the semi-finals of the Broken Pencil Indie Writers Deathmatch.

His novella, Dead Clown Blues, from Shotgun Honey/Down & Out Books, was nominated by the Crime Writers of Canada for a 2018 Arthur Ellis Award, and the follow up, 40 Nickels, was released in August 2019. The third book in the Carnegie Fitch Mystery Fiasco series, Shot to Nothing, is scheduled for publication in Summer 2021.

Previously a longtime Vancouver resident, he currently lives in Toronto with his spouse and daughter.

The battle with the void continues daily.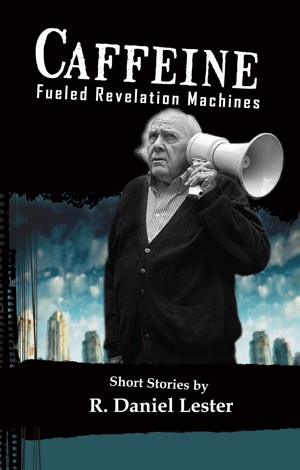 Caffeine Fueled Revelation Machines
by

R. Daniel Lester
A man at war with dust. A reality TV star striving to be just a little more (in)famous. A washed-up stereo salesman questioning the purpose of his 8-track existence. These characters and more inhabit the pages of this short story collection. Each person at a crossroads, however vital/trivial. Each arriving at a realization, however monumental/fleeting. Each having to live with the consequences.