Robert Doyel
Biography
Robert Doyel retired in 2010 after nearly 16 years as a Florida judge, having presided over part or all of over 15,000 restraining order cases as well as thousands more divorce, custody, paternity, child abuse, and child support cases. He was recognized for his work in family and domestic violence court by the Florida Coalition Against Domestic Violence, three different chief justices of the Florida Supreme Court, Governor Jeb Bush, and the American Academy of Matrimonial Lawyers Florida Chapter. Before going on the bench, he was a law school professor and a board certified trial and appellate lawyer. Judge Doyel has three law degrees, including a doctorate (SJD). His books on the Baby Mama Syndrome describe the phenomenon of unwed pregnancies and the often disastrous consequences to the baby mama and baby daddy, their rivals, society, and, of course, the child. His first book will launch on December 1, 2014.
Where to find Robert Doyel online
Books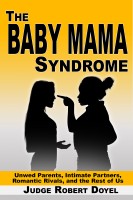 The Baby Mama Syndrome: Unwed Parents, Intimate Partners, Romantic Rivals, and the Rest of Us
by

Robert Doyel
Judge Doyel establishes the prevalence of the Baby Mama Syndrome (starting with 1,600,000 unwed births a year) and reveals many of the bizarre situations that unmarried parents and their children find themselves in -- a world of unconventional relationships, unrestrained sexual activity, unwed pregnancies, disadvantaged families, and violence, often described graphically by the people involved.
Robert Doyel's tag cloud