Richard DuRose
Biography
Richard DuRose, formerly a corporate labor and employment lawyer in Florida and Ohio, lives in Hendersonville, North Carolina, where he enjoys hiking in the mountains, and golfing with mediocrity. Living with him are his wife Nancy, and Her Highness, Mary Margaret, a haughty black and white cat.
He has been researching the story of the Dole Race and his aunt Mildred for over three years and continues to be interested in learning the stories of the participants of that race.
Books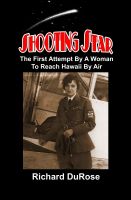 Shooting Star: The First Attempt By A Woman To Reach Hawaii By Air
by

Richard DuRose
Shooting Star is the story of Mildred Doran, who, in 1927 set her sights on becoming the first woman to fly from the West Coast of the United States to Hawaii, a distance of 2,400 miles. She was a participant in the Dole Transpacific Air Race, which promised fame and fortune to the first aviator to land at Honolulu from Oakland, California. You know about Amelia Earhart, now learn about Mildred.
Richard DuRose's tag cloud