Rebecca Rogers
Biography
I live in Arizona with my husband, two children, and lots of strange and wonderful animals. I am told that author's biography's are not usually written in first person, but then there are a lot of things about my books that are already unusual. I wanted to tell you why I wrote these stories and who they are about. These books are about me and my friends. One comment we hear over and over is how amazed people are that our husbands allow us to fill our homes up with crazy animals and even help us with our programs. Even my children have commented that they don't understand why their father lets me get away with so much. My first book, Aspen, is my answer to that question. It is a fictionalized account of my story. I manipulated the time line and re-imagined the setting and characters. But, anyone who knows my husband will recognize who Jack is based on.

I believe that true romance is all around us. I see it most often in my own marriage and in the marriages of my friends. The themes that tie my books together is the work we do as animal educators. It is how I met these fascinating women and how we became friends. As I got to know them better, I became amazed to realize that we were all supported both emotionally and financially by extremely indulgent and devoted spouses. These books are love letters to those men. It takes a very special husband to let a wallaby nibble on his expensive home like it was a gingerbread house.

The other thing that is different about my books is that they are short. I did not feel the need to draw these stories out. Life moves quickly. We are busy women and I assume my readers are too. My friends and I are living our happily ever afters. I wanted to tell the stories of how we got here. When I was done, I was done. Romance novels are supposed to be an escape. Sometimes we just need to escape for a little while.

I hope you enjoy my books. Writing them has been a pleasure. One hazard of becoming my friend has been that you might end up having strange pets. Now, I may just write a book about you!
Books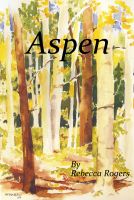 Aspen
by

Rebecca Rogers
A lovely but emotionally fragile young woman tells her own story of finding love and building a passionate and enduring marriage. This book is romance and erotica with a purpose. Written from the point of view of a young woman she describes how she learns about love and sex.
Rebecca Rogers' tag cloud