C.W. Richards
Biography
I began writing when I was about fourteen. Despite work, school and family I maintained an interest in writing over the years. About five years ago I began publishing on various web sites, many of which no longer exist.I've been married happily for many years and my wife supports my effort at writing. My hobbies are touring the country on my motorcycle (which I have sold) word working and mainly spending time with my wife. I read at least an hour a day. Some fiction and some historical non-fiction.
Smashwords Interview
Books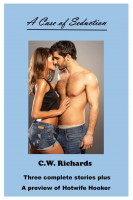 Seduction
by

C.W. Richards
Seductions is three stories about temptations to one man and two women. Each situation is unique and the stories are about how different people deal with temptation.
C.W. Richards' tag cloud