Ruth Delaney
Biography
Ruth E. "Robin" Delaney, CFP®, CLU, ChFC, ADPA is a nationally known financial educator, author, speaker and wealth manager based in Tampa, FL. She has been interviewed in various media, including on FOX TV's WTVT. Her passion is helping both women and men on their own, as well as successful families and business owners who are retired or about to retire to experience true financial freedom through a unique process that she developed.
As the oldest of eight children, Robin was born to a Navy physician and his wife. As a Pediatric Cardiologist, Robin's father dedicated his life, first to helping heal the children of military personnel, then to serving the children of Long Island, New York.
Because the apple doesn't fall far from the tree, Robin continues the family tradition of helping and serving people, as she guides her clients through their financial lives.
A strong believer in community involvement, Robin has been a board member of A Brighter Community, a not-for-profit pre-school and daycare center for at-risk children in the Tampa Bay area since 1998. Robin has served as the past president and board treasurer.
When she is not working, Robin loves spending time with her dog, Mickey, as well as playing golf and taking pictures.
Books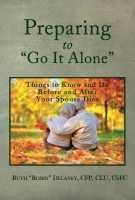 Preparing to "Go It Alone": Things to Know and Do Before and After Your Spouse Dies
by

Ruth Delaney
Guidance and help through the tumultuous financial aspects of recent widowhood written by a nationally known financial educator, author, speaker, and wealth manager.
Ruth Delaney's tag cloud