Christoph " Dutch" Smith
Biography
About The Author

I am the biological imprint of our ancestors , who may be of hybrid decent , and have walked among you , un-noticed , for many 1000s of years .
We of this Earth may all be of a genetic hybrid strain , of some level.
I bring you this knowledge , not to disrupt or cause doubt in your current religious beliefs , as these writings do challenge what we have been told to be historical fact of our origin of our specie , but so you may begin to understand that there may be "another side to the human's evolution story " and that "humans beings" are not alone in this world , .and may not be the only "beings" on this Earth.
The reader should note that story's period of history the photographs and testimonies predate 1960 . The reasoning behind this is that recent photos can be manipulated digitally. Photos dated in the 1950s and 40s , can be judged to be more authentic , absent of today's technological capabilities to be digitally manipulated , to trick the eye. And the general behavior of human honesty in these times are also deemed to be more trustworthy in describing these events and sightings .
I am an eyewitness of a similar account to this story.
My " birth certificate" indicates I was brought into this world in the same year as the UFO crash at Aztec, New Mexico and just after the Roswell crash in 1947. Memory tells me of my being raised on a remote Colorado mountain ranch , during the late 40s and 50s . I made my home in Boulder years later , to continue my assimilation into the Earth's human population . In the year of 1971, while sitting on the Spring flower covered slope sides outside of Gold Hill , Colorado , I made an encounter with unknown beings . What I witnessed was a sight that would forever alter my and my human companion's perception of what beings then existed , and now exists on this Earth .
Books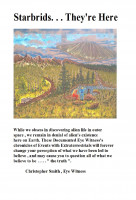 Starbrids . . . . . They're Here
by

Christoph " Dutch" Smith
Price:
$6.99 USD.
Words: 105,810.
Language: English.
Published: November 29, 2015
. Categories:
Fiction
»
Adventure
»
Action
While we obsess in discovering alien life in outer space , we remain in denial of alien's existence here on Earth. These Documented Eye Witness's chronicles of Events with Extraterrestrials will forever change your perception of what we have been led to believe , and may cause you to question all of what we believe to be . . . . " the truth ".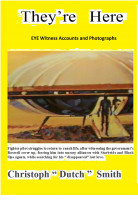 They're Here
by

Christoph " Dutch" Smith
Not since the release of the movie "Close Encounters of the 3rd Kind" has such compelling evidence been published, that provides the reader with documented evidence, eye witness accounts, and photographs of the government's covert collaboration and secret alliances with the "Hybrid's "existence on Earth. Written as Fiction , but based on facts, all gathered from Eye Witnesses
Christoph " Dutch" Smith's tag cloud