Marti LeRoux
Biography
Marti LeRoux, a licensed acupuncturist for over two decades and a certified teacher for over 30 years, has been researching the effects of radiation on health and the environment since 1986, when Chernobyl brought the world's attention to the dangers of nuclear power. Marti has dedicated her adult life to educating others about the harmful effects of radioactive contamination. She was the chapter president of the Florida Coalition to Stop Food Irradiation in the 1980s and has conducted classes on how to utilize proper nutrition to counter the effects of low-level radiation in our food.
Where to find Marti LeRoux online
Books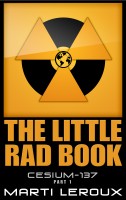 The Little Rad Book, Cesium-137, Part 1
by

Marti LeRoux
Even though radiation is invisible, it's damage is very real. Scientific research proves that radioactive isotopes, such as cesium-137 are accumulating in the foundation of the Pacific Ocean's food chain. They are concentrating and moving up the food chain, which spells disaster for the Pacific and Arctic marine and mammal populations, as well as the world's human population.
Marti LeRoux's tag cloud