Daniel Walker
Biography
Walker served 35 years as a minister and Elder within the Jehovah's Witnesses organization,The Watch Tower Bible and Tract Society. Simply stated he felt during the 35 years of service it began with a spiritual birth in Pleasantville, just east of George Orwell's Animal Farm adjoining the gated community of The Stepford Wives who directed him to the yellow brick road in search of the Wizard of Oz. He said he followed the fork in the road and found the Wizard of Oz in Amityville where his spiritual dream turned into a nightmare of death, lies, and deceit, never to find Pleasantville again.
Where to find Daniel Walker online
Books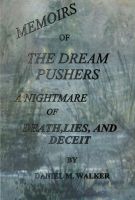 The Dream Pushers: A Nightmare of Death, Lies,and Deceit
by

Daniel Walker
Rags Anderson was one of the six million who faithfully obeyed the teachings of Jehovah's Witnesses until the day he opened his son's history book and discovered a contradiction between world history and a Jehovah's Witness core religious teaching. Who had the most to lose,his religion, or academia? The answers is a tangled mass of deaths,lies,and deceit that will haunt him forever.
Daniel Walker's tag cloud