1st Amend Press
Publisher info
Freida Wright may, or may not, be a young woman or an old man. She may also, but not likely, possess supernatural powers that may, or may not, have been used to procreate with her partner. Her children don't, but could, have crossed eyes and cleft palates because her husband is much older and of no relation. But most importantly, Freida Wright is an advocate for first amendment rights in the United States.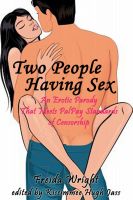 Two People Having Sex (An Erotic Parody)
by

Freida Wright
(4.50)
What can two people in love do when corporate censors are breathing down their necks? The answer? Less than you might imagine. "Two People Having Sex" is a playful erotic (as much as allowable as per corporate Terms and Conditions) parody that addresses censorship by corporate bullies.
1st Amend Press' tag cloud
1st Amend Press' favorite authors on Smashwords