René Prud'hommeaux
Biography
René Prud'hommeaux writes of himself: "In an effort to become a one-infant League of Nations, I was born in Alexandria when Egypt was a British Protectorate, of a French father and a German mother. Then, until I was seven, I lived in the foothills of the Alps near Grenoble, where there was a cow to whom I was deeply devoted. When we moved to America I was only comforted for the loss of that friend by the assurance that there were cows here, too. And so there are, though somehow I never got to know any of them socially.

"Since Mother was a teacher of languages, I attended school wherever she had a job- New York, New Jersey and Connecticut- and later graduated from the University of North Carolina. My Army career as a sergeant was spent mostly in Brazil, at the mouth of the Amazon and the edge of the jungle. A very short post-war interlude in New York convinced me that a one-family hermitage was what I wanted- and that took us to Fire Island and afterwards farther north to Mark Island."
Books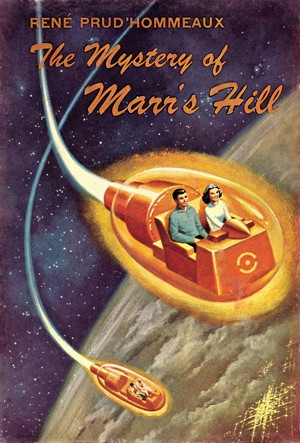 The Mystery of Marr's Hill
by

René Prud'hommeaux
(4.00 from 1 review)
It is an eerie, glowing light on a dark hill that draws Ricky Palmer and John Marr into one of the most fantastic plots ever to come from the realm of science fiction. The discovery of an abandoned passage under the hill leads to a surprise solution and an encounter with an eccentric high school physics teacher they hardly expected to meet under Marr's Hill...
René Prud'hommeaux's tag cloud