Robert E. Newton
Biography
Hello. My name is Robert Newton. In addition to a love of boating and the occasional game of golf, my passion is encouraging and helping others to live a healthier, happier, and more meaningful life. I do this by introducing a few simple guiding principles and strategies that, when applied, enable you to Do, Be, and Have anything you set in your mind. I also encourage people to adopt a more empowering set of personal beliefs to transform their experience of life from "just getting by" to living a more rewarding, meaningful, and enjoyable life. This passion initially inspired me to pursue a part-time college teaching career that led to motivational speaking and eventually to the writing of this book.

My primary purpose for writing this book is to make you aware of how your personal beliefs, perspectives, choices, decisions, and actions have shaped and influenced your experience of life—to bring you face to face with who you really are and what your potential really is and to bring you to the realization that you already have tremendous talent, ability, and power within you to do anything you set in your mind. I teach how more empowered personal beliefs will bring about more empowered thoughts and better decisions. These decisions will lead you to take more appropriate and empowered actions that, in turn, lead to more positive results and ultimately to a happier, healthier, more meaningful, and abundant life. It really is that simple.
Books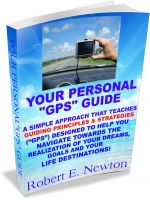 Your Personal
by

Robert E. Newton
Your Personal "GPS" Guide provides a simple approach that teaches Guiding Principles and Strategies ("GPS") designed to help you navigate towards the realization of your dreams, goals and Life Destinations! These simple, yet powerful, guiding principles and strategies ("GPS"), when applied, enable you to Do, Be, and Have anything you set in your mind. Dream big and enjoy the journey!
Robert E. Newton's tag cloud