Lisa Rose
Biography
I am a 56 year old woman who was a special learning handicapped teacher for many years. I had a brain operation at age 15 and it left me permanently handicapped on my left side.The two years after my operation and the consequences are the subject of my book, Sex, Drugs, Death in Beverly Hills. I was an effective teacher until I was injured on the job that left me unable to teach. I have been on disability for many years and I am writing a sequel and hope to do many more books.
Books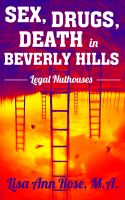 Sex, Drugs, Death in Beverly Hills
by

Lisa Rose
Magazines are filled with famous people involved in sex, drugs, and even suicide or murder. Lisa's book gives insight into that world in 1973-74 in Beverly Hills and not much has changed. Her brutally honest story could be a wake up call to others and for most it is a personal story of constant betrayal by people and institutions that could have done better to protect her and her peers.
Lisa Rose's tag cloud