Gadriel Demartinos
Biography
Gadriel Demartinos is an accomplished author, film director, executive producer, philanthropist and entrepreneur. Gadriel's vision is simple; be original or die trying. True to this principle Gadriel has worked in an executive level in several worldwide entertainment companies from which he learned the inside of the industry and its limitations. Understanding the artistic necessities, and the power and control of a few in an over regulated industry, Gadriel set his efforts to not only develop his own ideas, but also to promote other artists as well, and the result is Demar Communications Inc. Gadriel is currently developing an ambitious slate of new projects in all venues to get into production in the upcoming years.
Where to find Gadriel Demartinos online
Books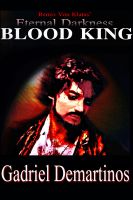 Eternal Darkness, Blood King
It's evil versus evil in a showdown of wits and will when Renzo, a proud immortal, who wonders if there still is some shred of human emotion inside of him, faces an ancient evil force, who seems to be as powerful as he is, with the perfect bait; the secret of how to turn immortals back into mortals in exchange for Renzo's soul.
Gadriel Demartinos's tag cloud