Riad Hassan
Biography
He was born in the mountain town of Betloun, in the district of Shouf in central Lebanon. He studied primary and secondary in the National College of Shwaifat and in 1957 commenced his university studies in the American University of Beirut (AUB). In April 1958 he abandoned the university ambit to join the patriotic forces of the Master Kamal Jumblat that started an armed struggle against the regime of then president Kamil Shamoun who intended to modify the constitution and become president for life. In August of the same year the war finished and he opted to emigrate and chose Venezuela as his destination.

His first work in Venezuela was as a science and mathematics teacher in English in the International School of Carabobo, Valencia. Since then, he has devoted his time to commerce, even though he was not attracted to the business world.

In the last 25 years he has divided his time between his work and the social and cultural activities of the community. In 1982 he summoned the young Druze of Valencia to tie the knots of friendship that allowed the creation of the first youthful group of Druze in Venezuela. This was the first initiative at a national level that later motivated the creation of the Druze Cultural Society in which he collaborated in its initial phase. He has organized and participated in numerous political and patriotic acts in defense of the Arab causes and from 1990 he is the representative in Venezuela of the Progressive Socialist Party of Lebanon. He is founder and president of the Kamal Jumblat Cultural Foundation..

The author is a member of the Society of Writers of the State of Carabobo and he has several essays and speeches, among them: The Calling (Addawaa); Kamal Jumblat, Lebanese Patriot, Arab nationalist and citizen of the world; Kamal Jumblat and the progressive leadership; The origin of the Lebanese conflict; The Palestinian problem and the Stone Revolution (Al-intifada), besides other articles and speeches in Arabic, English and Spanish languages.

He is married to professor Rosa Soto Hassan and father of Youssef Hassan, a lawyer, and Dr. Walid Hassan, PHD in physiology and professor in the Central University of Venezuela.
Books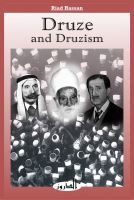 Druze and Druzism
by

Riad Hassan
(5.00 from 1 review)
Druze and Druzism covers the essential aspects of Druzism and the fundamentals of its spiritual doctrine, as well as the history of the Druze, their customs and traditions and the transcendence of the community in the Arab and in the international environments.
Riad Hassan's tag cloud