Bob Rice
Biography
The author graduated from the University of Tennessee with a degree in Political Science. More importantly, he (and his wife) owned and operated multiple retail stores continuously over a 32 year period. As a result he developed a unique admiration for "competition driven free market capitalism", whose absence in key business sectors during recent years, he argues, has contributed hugely to the economic demise of tens of millions of working middle class Americans. The author lives near Atlanta with his wife Paulette, 99-year old mother in law...and three noisy, but extremely loyal pooches.
Books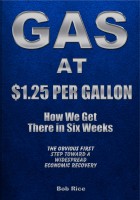 Gas At $1.25 Per Gallon: How We Get There in Six Weeks
by

Bob Rice
The book's title and subtitle pretty much preview the contents of the book. The one exception would be the book's longest chapter (approximately ¼ of the book's content), which discusses and challenges the Federal Reserve and its five year-long "stimulus" effort known as the Q.E. programs. It raises such under-publicized issues as "the fairness factor" and "the inventory durability factor".
Bob Rice's tag cloud