Richard Audry
Biography
Richard Audry is the pen name of D. R. Martin, who began his writing career as an arts journalist in Minneapolis. As a professional writer, Martin has covered topics ranging from consumer electronics and medical technology to travel and classical music. For many years, he reviewed science fiction and fantasy books for the Minneapolis Star Tribune.

In addition to his canine cozy mystery (The Karma of King Harald) and his Victorian mystery (A Pretty Little Plot), Martin is the author of the Johnny Graphic juvenile ghost adventure series and a contemporary P.I. mystery (Smoking Ruin).

You can learn more about these books at richardaudry.com and johnnygraphicadventures.com. He also blogs about the classic American tough guy Travis McGee at drmar120.wordpress.com.
Books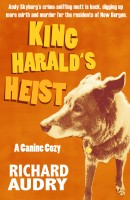 King Harald's Heist
by

Richard Audry
(5.00)
When a blackmailing historian turns up murdered in New Bergen, Andy Skyberg and his crime-sniffing mutt King Harald find themselves smack dab in the middle of another case. Andy would rather be wining and dining his beautiful new girlfriend, but Harald keeps digging up clues for the boss to follow. Havoc and hilarity ensue as the unlikely sleuthing duo get to the bottom of King Harald's Heist.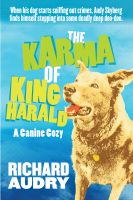 The Karma of King Harald
by

Richard Audry
After his business tanks and his wife leaves him for a Pilates coach, Andy Skyberg flees the big city for the peace and quiet of his hometown. All he wants is a decent job, a steady girlfriend, and one loyal dog. But fate has something else in store for him, when his big mutt King Harald starts sniffing out crime. It falls to Andy to channel his inner sleuth and try not to get killed.
Richard Audry's tag cloud