Richard Cheesmar
Biography
Here is someone who has been there and done it. or should we say he is still doing it. Lots of it! With a master's degree and nearly thirty years in the IT business, Richard, has travelled extensively in Europe, Asia and other exotic locations, both for pleasure and deploying his numerous skills in Information Technology. Richard began his working life in the military before wandering into Software Engineering and setting up his own consultancy company. Since then, he has written software and provided training and consultancy at all levels of the business.Richard, like all free agents, especially highly intelligent free spirits with a literary bent and an eye for beauty, has not only gathered adventures as he took life by the scruff of the neck, but also developed a facility for communicating their excitement and wonder. If 'Mad-Bad Spinning Top' is anything to go by, we look forward to more with anticipation.
Where to buy in print
Books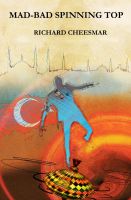 Mad-Bad Spinning Top
by

Richard Cheesmar
Fanatical Turkish ultra-nationalists, corrupt Russian scientists, Turkish Military Intelligence, the beautiful daughter of a Turkish General, and a gung-ho CIA agent, set the scene that pulls Chez, the star of this classic fictional adventure, deep into a chain of events resembling one of his fictional hero's (Danny Rome) mad-cap adventures. It's one big crazy ride on the Mad-Bad Spinning Top.
Richard Cheesmar's tag cloud