Richard Gladding
Biography
I am a British/Australian lawyer and law professor. I have lived in Japan for over 20 years and so have experienced the many joys, as well as the frustrations, of the culture and way of life. My motivation in writing about Japan is to put that experience to use to help new arrivals to the country and others understand the way the country works. I love football (the 'world game' version), cricket, film & television, reading, teaching, travel, restoring old furniture and fixing up my old house.
Books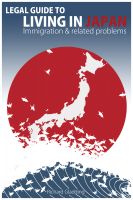 Legal Guide to Living in Japan - Immigration & related problems
by

Richard Gladding
A guide to immigration rules and practices related to living, working and/or studying in Japan, including visa and status of residence problems, resident/alien registration, permanent residency, refugees, naturalisation and deportation. Written in English and easy to understand, it is aimed at foreign nationals already living in Japan or planning to move there.
Richard Gladding's tag cloud