Richard Greenberg
Biography
Dr. Richard Greenberg attended medical school at UC Davis School of Medicine, in Northern California. He completed his internship and residency in pediatrics at The University of Utah Health Sciences Center/Primary Children's Medical Center. He completed a fellowship in pediatric emergency medicine at the University of Colorado Health Sciences Center/The Children's Hospital, Denver. Dr. Greenberg is an Associate Professor of Pediatrics at The University of Utah Health Sciences Center. He currently works as a pediatric emergency medicine physician in Salt Lake City at Primary Children's Medical Center, as well as a general pediatrician at a community clinic in the Salt Lake City area (South Summit Pediatrics). Dr. Greenberg has published several articles on pediatric subjects such as croup, asthma, sepsis, and pediatric trauma. He has presented research on several pediatric subjects at national and international medical meetings.
Books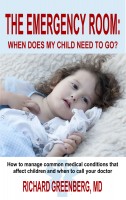 The Emergency Room: When Does My Child Need to Go?
by

Richard Greenberg
This book explains how to manage common medical conditions that affect children. Some of these conditions include fever, vomiting and diarrhea, colds, ear infections, abdominal pain, and others. The book also reviews when parents should be concerned with regard to these conditions and when children should be seen by their doctor or in the emergency room.
Richard Greenberg's tag cloud