Richard Krause
Biography
Richard Krause's collection of fiction, Studies in Insignificance, was published by Livingston Press, and his epigram collection, Optical Biases, was published by EyeCorner Press in Denmark. Seventy of his epigrams have been translated into Italian at Aforisticamente, an international website for aphorists. In the last year his writing has appeared in Eastlit, The Oddville Press, Scarlet Leaf Review, Brilliant Flash Fiction, Indiana Voice Journal, and Hackwriters Magazine. He teaches at Somerset Community College in Kentucky.
Books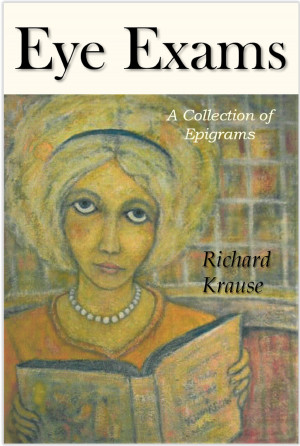 Eye Exams: A Book of Epigrams.
by

Richard Krause
Epigrams can be stabs at thought, sudden insights, or summations of a life. The fact that they don't parade in the best dress gives freedom to all types of garb; even so, occasional nakedness is exposed. Ultimately writing epigrams exposes the reader as well as the writer, and by extension all human nature -- broadening our observations of the species. The sole object is understanding.
Richard Krause's tag cloud