Richard Phelan
Biography
I was born and raised in Canton, MA. I currently reside there with a wife who thinks she owns the place, three kids who back talk, three dogs who don't come when called, and I love each with all my heart.
I have a background in Physics and Engineering and I love the Sci in Sci-Fi.
Books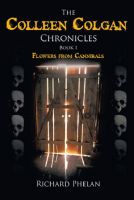 The Colleen Colgan Chronicles-Book1-Flowers from Cannibals-2nd Edition
By
Richard Phelan
Price:
$2.99 USD.
Words: 84,860. Language: English. Published: November 5, 2010. Category: Fiction
(4.00 from 4 reviews)
Colleen Colgan is a tortured 8th grader who is part human-part chimp-all mutant. Erin is from a future Earth where global warming has left the human race on the brink of extinction. Colleen is the only hope for the last band of survivors. The girls battle cannibals, slave traders, demon lizards and time itself in an adventure of a lifetime.But will Colleen have to sacrifice her life to save them?
Richard Phelan's tag cloud