Richard Stone
Biography
Richard Stone found his calling in empowering others who lack social skills, have communication problems or even relationship troubles with his powerful techniques and approaches that seem to work in most cases. Richard stated that he was quite an introvert in middle and high school. Now he feels obligated to give people the freedom of socializing that he didn't experience due to his lack of social skills at the time.

He was fully devoted to becoming more observant and spent a lot of time in the library reading books, talking to various other experts, trying to understand human psychology, behavioral science, social culture, behavioral science and communication skills. After few years of studying and from practical knowledge, he became an expert, and during that time he became an outstanding communicator.

Richard now works as a life coach for personal development and devotes much of his time writing books that empower people, answers emails and phone calls from people who are in need of guidance in the realm of relationships, socializing and communication.
Books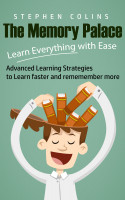 The Memory Palace: Learn Everything with Ease - Advanced Learning Strategies to Learn faster and remember more!
by

Richard Stone
Learn Anything And Everything Memory palaces can be used to help you in nearly every aspect of life. Palaces can be used to learn languages, to remember shopping lists, and to keep track of sensitive information like banking passwords that you might not feel comfortable leaving on a piece of paper.
Richard Stone's tag cloud