Richard Dick
Bio of Richard Dick
Hi:
I'm Dick for short although I've been told it's not so short. I wear size eleven shoes and the collars and cuffs match, if you know what I mean. I was writing under another name and not making any money. I decided I would do what everybody else does – write about sex. I have high standards though I use correct terminology for body parts - none of this 'thing-a-ma-jig going into the whatcha-ma-callit'.

I was born and raised in the Mid-West part of the United States, a very conservative area. I had to move away before I found that the word 'fuck' could be used in whole sentences. Everybody there is actually fucking their brains out but is keeping it a secret. I have no secrets about my sex life and therefore pride myself in being an honest SOB. I like to fuck; now that's the honest truth. Women in the Mid-West, as a whole, like to fuck. They're just secretive about it or they will be called all kinds of names, which just come down to: "LOVE THEY NEIGHBOR, BUT DON'T GET CAUGHT'.

College in the Mid-West is a pain in the ass since there are all kinds of rules and you do not really get to know how to live your own life. I have the feeling that the bunche in the Mid-West colleges are being short-changed. No booze and no women in rooms – at least that's the way it was in the 1960's.

A conscience is what hurts when everything else feels good. Why does it hurt, because a bunch of religious zealots told you it's evil and not to do it – thus handing you the big guilt trip that lasts all of your life? I think sex is fun and part of everyday life. All modern cultures say that women should be clothed at all times. The Muslim bunch takes it to the extreme and I prefer to think of it as just plain stupid. Man, however, should be clothed. After all, his sex organs are external and should be hidden from the curious minds of children. I am not impressed by big boobs – everything you can't get into your mouth is just waste. I just love taking pot shots at the 'status-quo' parts of various cultures especially when it comes to sex.

I've laid out my views, which defines who I am. Just buy my 'fucking' books.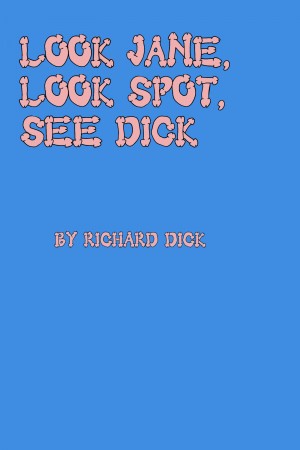 Look Jane, Look Spot, See Dick
by

Richard Dick
Look Jane, Look Spot, See Dick by Dick This book describes in a few pages a lifetime of sexual activity from childhood to a questionable adulthood. It is an anthology, if you will, of sex as practiced by one individual.