Ric Rorabaugh
Biography
Ric Rorabaugh has been a submariner, children's entertainer, jewelry sales person, server, teacher, grocery bagger and forklift driver, definitely not in that order. When he started teaching 8 years, ago he decided he needed to put his money where his mouth is and do more than just teach kids to write. In other words decided he needed write a few things himself. His works vary from short sci-fi stories to full length adventure novels and a sampling of poetry.
Books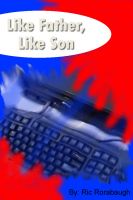 Like Father, Like Son
by

Ric Rorabaugh
John succeeds at his goal of creating artificial intelligence and is faced with some difficult decisions as he is forced to look into the mirror of his own humanity.
Ric Rorabaugh's tag cloud