Rishabh Prasad
Biography
Aside from being the co-founder of ACP and a practicing GP, I am the the Co-founder and VC of LLR PCL, a provider company covering 750,000 patients, representing 350 GPs and 90 practices, with a strong track record in managing and delivering large NHS contracts. I am also the director for primary care are Health Education East Midlands, and the lead on regional end-of-life pathways.

My driving ambition is to equip primary care with the ability to manage these changes, and to consistently deliver excellent patient centred care.
Given my own clinical authenticity, combined with in-depth understanding of issues, I can bridge the divide between the stakeholders effectively. This leads to significantly improving outcomes to national-level changes, as well as improving implementation and adaptability.
Books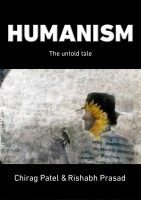 Humanism: The Untold Tale
by

Chirag Patel

&

Rishabh Prasad
Humanism has a history and tradition as long and complex as any major religion, and older than most religions. It has traced a conceptual path around Eurasia, holding onto remnants of each place. Secular humanism has hidden much of this history from us. This book aims to redress the balance by exploring Humanism's path from China, through India, the Middle East, northern Africa and finally Europe.
Rishabh Prasad's tag cloud