RL Malone
Biography
Like Trevor, my main character in Where Robins Sing, I was born and bred in a little town in West Tennessee. In high school, I played baseball and was a member of the Yearbook Staff. After high school, I attended the University of Tennessee Knoxville, where I received a Bachelor of Arts in English Lit. with a minor in Economics. I was a high school English teacher for a number of years, before leaving the profession to go into business with a friend. I'm a divorcee and share joint custody of my two daughters, one a high school junior, the other an 8th grader.

I currently make my home in the scenic Blue Ridge Mountains of Kentucky. In addition to writing fiction, I like reading good fiction. No surprise there, I guess. Some of my favorite writers are people like James Patterson, John Updike, John Grisham and Dean Koontz. In my spare time, when I'm not writing, I like to fish and go hiking and camping, sometimes just me and Jasper, my giant Poodle, other times with the girls. (By the way, in case you're wondering, that's Jasper in the photo. I tend to think he's the better looking of the two of us.) One day I'd like to go white water rafting on the Colorado River.

Oh, yeah, I hope you like my debut novel, Where Robins Sing.
Books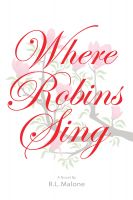 Where Robins Sing
by

RL Malone
Set in a small southern town in the mid-1970's to the mid-1980's, Where Robins Sing is the story of small-town football hero Trevor Daniels and the gorgeous but wild and outspoken Darcy Wood from up north who meet and fall in love their senior year in high school. Their differences are too great, however, dooming their puppy love. But they reunite a decade later, the flames of love reigniting.
RL Malone's tag cloud