Sunshine Sweet
Biography
I've got three kids, 10 and under, and they keep me and my husband insane(ly busy). We're a family always on the go - soccer, football, swimming, skiing etc. and we wouldn't have it any other way. My kids regularly make me laugh and sometimes it is on purpose and other times I'm just laughing at them. I love to laugh and love to make others laugh even if with cheap humor; Blue Balls Parenting is Dirty Business is a product that love. Enjoy!
Where to find Sunshine Sweet online
Books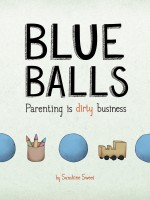 Blue Balls: Parenting is Dirty Business
by

Sunshine Sweet
As parents, we want to be the best role models and while we try to watch what we say when little ears are present, we sometimes slip up. Colloquialisms like "blue balls," or innocent phrases like "I want a boy toy" at the fast food franchise often sneak into our conversations. Blue Balls: Parenting is Dirty Business allows us a few chuckles while we tackle the serious work of raising kids.
Sunshine Sweet's tag cloud