Yale Jaffe
Biography
I grew up loving the rythym, grace and beauty of well played basketball. In order to stay connected to the game long after my playing days were over, I began to referee games. I have continued to officiate high school games for over 20 years. I love the positive aspects of amatuer athletics, despite the dark sides. Many of the stories told in the book are based on actual events that I have observed. Advantage Disadvantage examines the greed, corruption and betrayal of the adults who are associated with a high school basketball prodigy. I'd like to think that the book is about the strengths, weaknesses, triumphs and failures of the characters. Secondarily, it is an expose of high school sports.
Books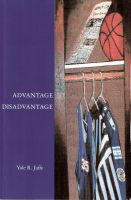 Advantage Disadvantage
by

Yale Jaffe
(5.00 from 1 review)
Greed, corruption and betrayal of the adults surrounding a high school basketball phenom are examined in this who-dun-it thriller. A neighborhood bookie tries to fix the betting on a high school game to ripoff the local gangs. A sportswriter covering prep sports struggles to advance his career, despite his editor's misgiving. The player's coach must make tough choices which test his morality.
Yale Jaffe's tag cloud