Rob Robinson
Biography
Born and raised in California, taught one year in New Mexico, thirteen years in California, and living and teaching in Washington State since 1989, Rob has had a variety of experiences. He worked a summer at a Christian camp in the mountains, a year of security at Disneyland, drove the family on a trip around the United States, lived in three states, taught high school, junior high, middle school and elementary classes and has continued to write about every genre he can including western, science fiction, romance, adventure, detective, biography, memoir, fantasy and regulary fiction.
Where to buy in print
Books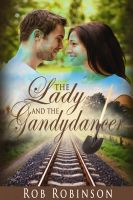 The Lady and the Gandydancer
by

Rob Robinson
Sean O'Sullivan, once a roaring twenties playboy, has been forced by his railroad president father to work as a Gandy Dancer, unskilled workers who use shovel and pick to keep the rail lines straight. One night he finds himself rescuing Anne Miller, a spoiled coed abandoned on a mean street in Baltimore by her feckless date. He lets her believe he is a common laborer, and she is charmed by him.
Rob Robinson's tag cloud