Robert McQuade
Biography
Robert McQuade doesn't just write about history, he lives it.

His career includes writing and directing TV documentaries for two Presidents, as well as award winning commercials starring ten Football Hall of Fame inductees and numerous movie stars. His national Vote campaign earned a permanent position in the Smithsonian Institute.

Recognizing the need for DVD-based age specific literacy programs, he created a series of them that are a learning mainstay for public libraries nationwide. From the White House to the pyramids of Egypt, Robert shares exciting time and romantic characters with his readers.
Books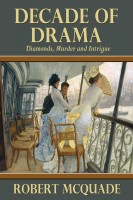 Decade of Drama — Diamonds, Murder and Intrigue
by

Robert McQuade
Civil War veteran and engineer Jack Tarboro is smitten with diva Eleanora Rizzo from the moment he sees her and she returns his feelings, but their relationship is not destined to be easy. The final ingredient to this tumultuous tale is a business arrangement involving Jack, Andre, the Boers, the South African slave trade, diamonds and guns.
Robert McQuade's tag cloud