Robert Vilums
Biography
Robert Vilums was born in Central Ohio in 1959. He is a 1st generation U.S. citizen of Eastern European immigrants that brought with them first hand experiences of the horrors of WWII. Robert was raised under a strict Catholic upbringing attending parochial schools as a child where he was tortured by nuns plenty! However, Robert found that his family strongly encouraged creativity and the arts throughout his upbringing. Robert studied music from the age of 4 until he graduated High School. He was a professional musician where he performed in clubs and venues across the Midwest and Southern California throughout most of his adult life. Robert also attended Ohio University where he studied Theater, and Mount San Jacinto College in Southern California where he studied Computer Networking.

Robert has recently written the musical score for an independent film and continues to collaborate with entertainment industry professionals, and a video production studio to offer creative and technical consultation in Southern California. Robert has now started to incorporate his creative talents to writing stories and screenplays using his own life experiences as a guide.

You can reach Robert via email at robertmv88@gmail.com.
Books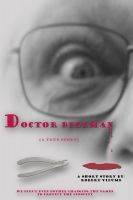 Doctor Billman
by

Robert Vilums
(5.00 from 3 reviews)
Doctor Billman is the true story of the author's experience of a horrifying, and yet comical visit to the dentist seen through the eyes of a 7 year old child. Doctor Billman was a retired dentist that performed dental work on patients in unsanitary conditions at an extreme discount to feed his hobby and/or fantasies.
Robert Vilums' tag cloud