Robert Donato
Biography
Robert Donato is a business professional with more than twenty years' experience in operations management, primarily within the hospitality industry. Mr. Donato's background includes sales and marketing, event management, client and public relations. Mr. Donato recently transitioned into education, imparting his experience on the next generation of hospitality professionals. He is currently curriculum developer and faculty member of a private college in Miami, Florida. He holds an MBA, and has a BS in Hospitality Management. He is also a licensed Florida realtor.
Where to find Robert Donato online
Books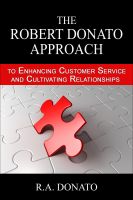 The Robert Donato Approach to Enhancing Customer Service and Cultivating Relationships
This course provides a comprehensive understanding of the Art of enhanced customer service and relationship building; what it affects, and the benefits of becoming a master relationship manager. Because the goal of the course is to explain to readers the value of cultivating relationships, it is especially beneficial for anyone who has direct customer contact or who frequently works with clients.
Robert Donato's tag cloud