Robin Howat
Following successful UK studies in sociology, psychology, World War 1 & 2's social effects, business management, Investors in People, Computer programming and repair, education, MA.ed, music, graphic arts, and 40 years teaching it seemed clearly that there are major problems developing in how society's members relinquishes their responsibilities and will to research and investigate the actual outcomes of the so called culture of human rights in every aspect of our lives. Further, the dilution of concepts of worth and quality form further concerns as does a seeming degrading of the character demanded of public servants and too many members of governments.
Further research and journeys into the worlds of Ecological studies, the history of the Fine Arts, philosophy, politics and theology have produced more troubling concerns: hence my book Responsibilities Then Rights. This work is the result of many years of research and reworking ..... the journey is not yet over.
I have also written and self illustrated two books for the young, available at Blurb, and another is nearly completed. For the illustration work I learned to use Adobe's Photoshop and InDesign illustrating via Wacom Cintiq.
I also teach painting, volunteer at Lang Pioneer Village in their period music group and write the occasional song. With a daughter and a son, 9 grandchildren and 2 great grand children to date my wife and I have every reason to be involved with and concerned regarding the future world, assuming there still can be one to look towards.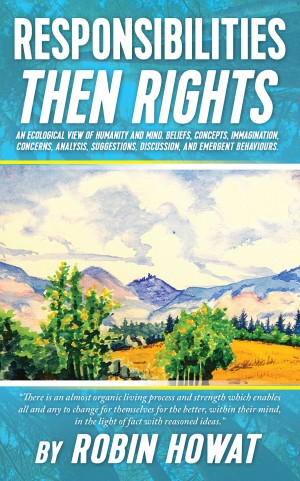 Responsibilities Then Rights
by

Robin Howat
This book disagrees that any person has full rights irrespective of what they do in and to our society. Fixing words on paper cannot fix meaning and so implications. Such ideas are simply that and relevant to existing conditions. Fixed words dangerously allow some to exercise a form of escapism while for others they advance their ambition through blaming and causing harm.