Roderick Moore
Biography
Paul J. Moore was born (1902) and raised in New York City. He became interested in sciences and mathematics and was admitted to Massachusetts Institute of Technology at the age of 15. He also attended Syracuse University and studied higher mathematics in his graduate work at Union College. He was a young engineer at General Electric in Schenectady and summered with his family in Watch Hill, Rhode Island, before the hurricane struck. After the storm, he continued to summer in Watch Hill until 1968, when he and his wife moved to Stonington, Connecticut. He passed away in 1997 in Warwick, RI. His children, who were by his side, recall that lightning struck at the moment of his passing.
Books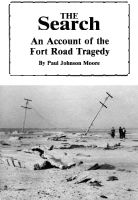 The Search: An Account of the Fort Road Tragedy
by

Roderick Moore
This book relates the tragic tale of the author's search for his step-mother and sister, who went missing during the devastating 1938 hurricane in Watch Hill, RI. The book is a detailed, first-hand, contemporary eyewitness account of the rescue and recovery effort in southwestern RI and nearby Connecticut. Its 100 or so pages contain over two dozen photographs, many of them taken by the author.
Roderick Moore's tag cloud