Roger Lee
Biography
Roger Lee's working roots run deep. He comes from a hard working family. "Nothing fancy about my background or upbringing. My parents never made it to college but got most of their learning through the school of 'hard knocks.'" A certified arborist, Lee has been a small company business owner since 1983.
Though he was raised in church, Lee says it has taken a lifetime to learn just how valuable God's love dwelling in him is. "The more mature in years I become, the more I realize that without Him I have nothing and am nothing." And through the years, God has planted in him a passion to write. So in the midst of his own life's storms, God says, "Roger, you write." And he does.
Roger and his wife, Rhonda, live in Michigan. Married more than 30 years, they have two children, Candace and Jeromy.
Books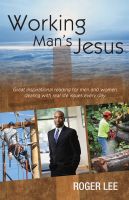 Working Man's Jesus
by

Roger Lee
In Working Man's Jesus, the author has a sit-down, heart-to-heart with 21st Century men using biblical examples. Lee acknowledges that life includes gale force winds and exhausting marathons. Still, he challenges readers to learn from God's Word and fall to their knees. Above all, Lee wants readers to know Jesus does, indeed, love the working man.
Roger Lee's tag cloud