Roger Smith
Biography
Roger Neal Smith has been involved in business and financial management and consulting for more than twenty-five years. He has had the rare opportunity of working on both sides of the investing area – as a stockbroker and money manager, as well as the Chairman of the Board and Chief Executive Officer of a publicly-traded company. As a result, he has been afforded the opportunity of viewing the world of finance from contrasting perspectives. In fact, since he and his CFO prepared the documents required to take a company public, he has personally interfaced with many of the U.S. securities regulatory agencies.
He currently serves as the Chief Executive Officer of Smith Food & Beverage Group, which develops, markets and distributes food and beverages internationally. Prior to his tenure at Smith Food & Beverage group, he founded and served as the President and CEO of OBN Holdings – an international entertainment, import/export and consulting company.

Mr. Smith's experience includes providing consulting services in the areas of finance, operations and marketing to both American and Japanese private enterprises, and to the United States federal government. Prior to starting OBN Holdings, Mr. Smith served as a Financial Consultant with Smith Barney, one of the world's largest securities firms. During that time, he was responsible for providing financial analysis, portfolio management, asset management, financial planning, investment advice, and product research services. During his tenure at the firm, Mr. Smith managed over $150 million in assets for more than 600 business and individual clients worldwide. Before working at Smith Barney, Mr. Smith was a Principal in The Creighton Group where he provided financial, strategic marketing, technology transfer and research services to both large and small businesses.

Since 1986, Mr. Smith has taught classes in business and ethics at various universities, including UCLA; California State University, Fullerton; California State University, Los Angeles; California State University, Northridge; California State University, Dominguez Hills; and Santa Monica College. Mr. Smith also served as the Chairman of the Board of Trustees for the Phillips Graduate Institute and was a member of the Board of Trustees for the California School of Professional Psychology.

Mr. Smith earned a Masters of Business degree from the University of Chicago and a Bachelor of Arts degree in photography and design from the University of Illinois, Chicago. He is able to speak, read and write Japanese.
Books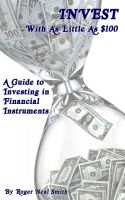 Invest With As Little As $100: A Guide To Investing In Financial Instruments
by

Roger Smith
Invest With As Little As $100, which I also call "Clarence", has been written for the person who wants to invest their hard earned money, but do not know how the various investment vehicles work. Clarence is designed to empower the reader by explaining all of the major ways in which the average person can invest. It does not focus on investment strategy, just to describe how things work.
Roger Smith's tag cloud