Kerry M Kelly
Biography
I started writing books many years ago when I was a single mother raising three kids. I always loved reading, and felt drawn to writing. It seemed, right from the start, that the stories were 'given' to me. It was fascinating meeting the people who seemed to just show up in my books, and I enjoyed reporting what was going on in their lives.

I just recently started submitting my stories as e-books. I had tried, many years ago, to get a couple of my books published, but found that while I enjoyed writing, I was not good at 'jumping through hoops' to get published. So I kept writing, and quit trying to get my books published.

Now that e-books are a possibility, I would like to introduce others to the people, places and events I discovered while writing. I do hope you'll enjoy getting to know all the characters I met along the way. Some of them are quite memorable - some good and some bad - but all worth meeting, I believe.

I find I still enjoy going back and re-reading all of my books and re-acquainting myself with the many fascinating people I met on the incredible writing journey I have taken. I hope you will come to like many of them, too.

Thank you for spending your time reading this book. And please write and tell me how you feel I did – good or bad. I would really like to know. And I'd enjoy adding you to the growing list of people I've met through my books and because of them.

You can contact me at kkromances@gmail.com or on my face book page at kkromances@gmail.com, or at Smashwords


Kerry M Kelly

P. S. – For those of you who might want to know more about me: I am now married, and all four of our children have families of their own. My family has grown from four to 17, and my husband and I are enjoying all 9 of our grandchildren. I am a registered nurse who works in an asthma/allergy clinic in Spokane. Before this, I worked 27 years as an LPN on the orthopedic unit at a local hospital (And it's at that time – when I started as a nurse – that I first felt the desire to write)

And thank you to those of you who have read - and reviewed Friends Don't. For those of you who did not agree with Katryn's choices, I hope you'll give me another chance by reading Too Late Returning. I learned a lot from your reviews. Thanks, again.
Books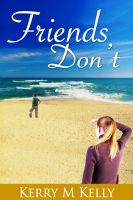 Friends Don't
by

Kerry M Kelly
Price: Free!
Words: 61,210.
Language: English.
Published: April 4, 2014
. Categories:
Fiction
»
Romance
»
General
(3.50)
Katryn had thought John had been the worst thing that had ever happened to the volleyball team. She was beginning to feel Paul would be a much harder pill to swallow. But no matter how she felt, or even how he felt, she would have to convince him she couldn't date him. Julie had been her best friend for a long time, and Julie said she was interested in Paul.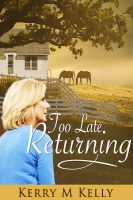 Too Late Returning
by

Kerry M Kelly
Price:
$2.99 USD.
Words: 158,060.
Language: American English.
Published: February 5, 2014
. Categories:
Fiction
»
Romance
»
Contemporary
(5.00)
Bridgid knows she only has one chance to set things right. She needs to get Mister John to read the book. 'Sure and once he reads what all she'd been put through, wouldn't he by trying to get her back? Wouldn't Kitt have been the best thing that ever happened to the whole lot of us? And it's not been the same since she left – not for any of us. If I can just get him to read the book...
Kerry M Kelly's tag cloud