Brian Babayans
Biography
I am a regular person who experienced type 2 diabetes due to bad diet and lack of exercise. It doesn't run in my family and learned that doesn't matter. You can still get diabetes even if it doesn't run in your family, and you can prevent it from happening to you even if it does run in your family.

I didn't know what things were bad for my health and increased my blood sugar and when I starting having symptoms, they hit me hard with little time to adjust my diet to prevent neuropathy. I had to go to these alternative facilities and research everything and anything on how to heal and reverse this condition.

I had such bad trauma from the neuropathy, I couldn't even move my legs and they began turning purple. I lost sensation and felt numbness and tingling in my hands, arms and legs. I was terrified and thought I was going to die. I wondered if my legs and arms would need to be amputated. This was the worst experience I ever had in my life.

After meeting with several doctors who specialized in reversing type 2 diabetes and learning about what supplements lowered blood sugar (because regular pharmaceutical drugs caused severe side effects and I had to stop taking them), and completely changing my diet I was finally able to lose weight, heal from the neuropathy, and get into shape using my own workout routine which built muscle and burned fat.

It took my almost a year of treatment and researching and experimenting on my own body to come up with a plan to live my life without health problems. I would test my blood sugar before and after certain meals and found out what caused the least raise in blood sugar. Then, I began testing my blood sugar before different exercises which included, jogging, walking, sprinting, lifting weights and a combination of all of them at different times. I created a workout routine (which will be available in video on www.endingdiabetes.net in the next several months) explaining every workout routine I did and how it helped me keep my blood sugar low without using insulin or metformin.
Books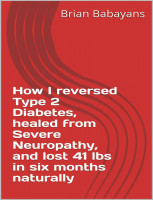 How I reversed Type 2 Diabetes, healed from severe neuropathy and lost 41 lbs in six months naturally
by

Brian Babayans
This book tells my story how I reversed Type 2 Diabetes, healed from severe neuropathy and lost 41 lbs in six months naturally. I explain my diet, workout routine, supplements which lowered my blood sugar and the importance of fasting. I have blood tests showing the progress of my glucose dropping, before and after pictures showing the dramatic change in appearance, and body mass index results.
Brian Babayans' tag cloud