R. J. Sayer
Biography
Ron James Sayer is a new author from the wilderness of East Anglia in the UK. having spent the past several decades as a musician with many albums recorded and gigs performed, Ron has decided to return to his oldest passion. Writing weird books about science fiction, the paranormal and other strange and spooky happenings.
Where to find R. J. Sayer online
Videos
Beyond The Coat Cupboard Theme
Here's the theme tune I wrote for my first novel Beyond The Coat Cupboard.
Books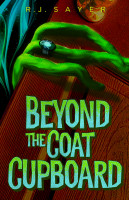 Beyond The Coat Cupboard
by

R. J. Sayer
As far as her family is concerned, Dot doesn't have a friend in the world. What they don't know is that you don't have to be in your own world to make friends.When the strange goings on in her coat cupboard lead to Dot meeting T'Chi, from the planet Scarabos, she discovers that humans aren't the only ones who think they own planet Earth.
R. J. Sayer's tag cloud