Rowan Pendragon
Biography
I'm an author, blogger, and Priestess. I have been involved in Paganism and the Craft for over 25 years and have been working publicly as Witch and Priestess for over about over 15 years. I am a certified paranormal investigator, a certified tarot consultant, and a certified angel communication master. I have been working with Reiki and crystal healing for over 10 years and am a Reiki Master Teacher, a Faery Reiki Master, and certified crystal healer. I love writing about the magickal, mystical, and spiritual and sharing my knowledge and experience with others.
Where to find Rowan Pendragon online
Books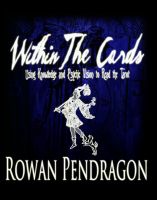 Within The Cards
Learn to work with the tarot for both readings and personal development using traditional tarot wisdom and knowledge along with connecting to the cards on a psychic and intuitive level. "Within The Cards" shares tips, tricks, and exercises to develop your psychic skills and dive deeper into your personal tarot journey.
Rowan Pendragon's tag cloud