Rozlyn Sparks
Biography
Rozlyn Sparks is a thirty-something lady who's been around the block a time or two. A Sin City native, she believes what happens in Vegas is fantastic inspiration for fiction! She knows the best stories are the ones that need to be shared. Give her a pen, some paper, and a Redbull and Vodka and she'll spin tales that will have you begging for more.
Where to find Rozlyn Sparks online
Books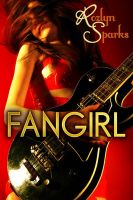 Fangirl
When blood is food, a jealous master controls your every move, and death comes to anyone you get close to; love is not a luxury you can afford.
Rozlyn Sparks's tag cloud